So guess who just graduated high school? Yup, I did! It was tough at times but I finally made it.
It was pretty cold out there on the football field, but listening to the speeches was nice. The highlight was probably the student president saying "three point hoe" rather than "three point O" as in GPA. Later our principal called us three point hoes as well.
After graduation, there was a big party inside the school that lasted til 5 am! There was an abundance of food and games where you could win fake money which could then be exchanged for raffle tickets and prizes.
I didn't win anything from the raffles, but thanks to playing lots of bingo, I purchased a bed set.
I had lots of fun, and although I have to look for a job now, I'm relieved, and more than that, proud of myself for making it.
linked up at: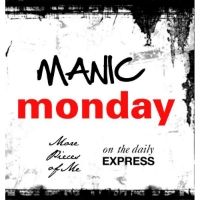 shout out to the hosts,
More Pieces of Me
and
On The Daily Express
!
shout out to the hosts,
still being [Molly]
and
Lip Gloss & Crayons
!